Le Martinet Rouge campsite is ideally located for hiking in the surrounding woods and garrigue in the Aude department. They are accessible to all, with varying degrees of difficulty depending on the distance, but all allow you to enjoy the wonderful landscapes of the region around Carcassonne.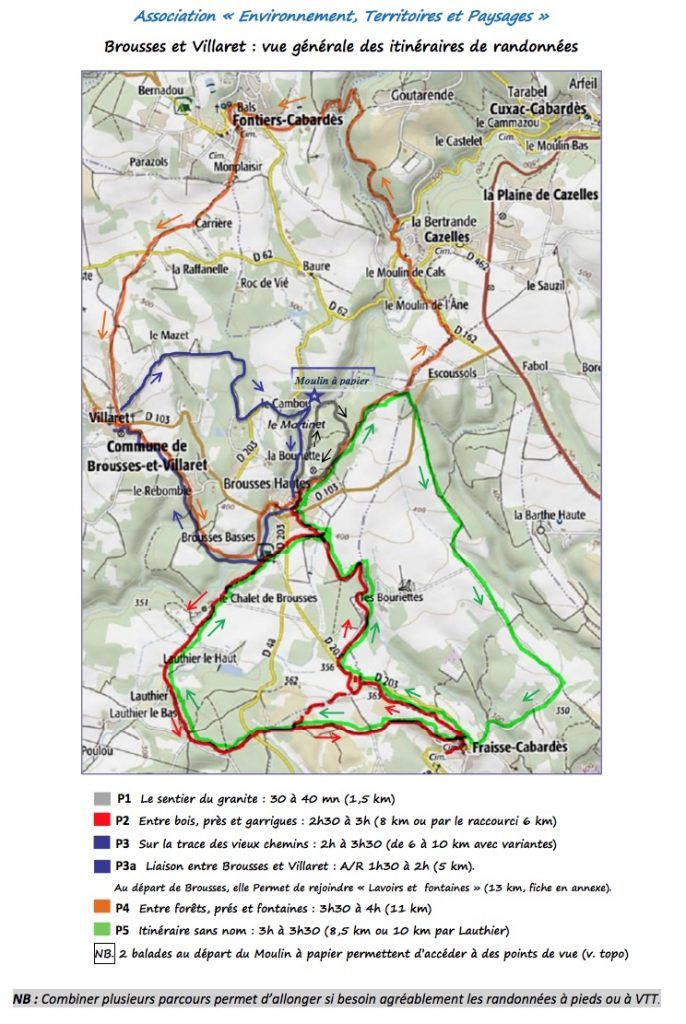 Click on the image to download the map
Hiking trails near Carcassonne in Aude around the campsite
The Granite Trail
30 to 40 minutes (1.5 km)
In and around Brousses, the traces of the nearby Montagne Noire are extended by the outcrop of rocks visible in many places
This trail takes you past the remains of the old stone quarries, which have remained untouched since they were mined. You can see cut stones and the beginnings of cracks, which in those days were widened by wooden wedges that, when wet and depending on the temperature, caused the stone to split.
Hiking through woods, meadows and garrigues
8 km (2h30 to 3h).
This walk takes you through trees and groves of various species, and offers magnificent views of the Carcassonne valley, the Pyrenees and the Montagne Noire. It's worth noting that this hike takes you past a hundred-year-old Lebanese cedar. Last but not least, birdwatchers will be able to catch a glimpse of raptors on their walk.
Hiking on the trail of ancient paths
6 to 10 km (2h to 3h30)
This circuit is a loop linking the two villages of Brousses and Villaret, along old paths lined with old stone walls that the elders patiently built to criss-cross the countryside. The walk takes you through both villages, taking in the rural heritage (fountains, wash-houses, etc.) and the shade of tall, varied trees whose roots dip in search of water in small streams. Finally, the trail leads down to the torrent de la Dure, with the paper mill, still in operation.
Hiking through forests, meadows and fountains
11 km (3h30 to 4h)
This hike takes in the whole of Fontiers-Cabardès to the north, where you can visit the church of Saint-Clément, then Villaret and Brousses to the south, and then up to the neighbouring Moulin de l'âne and Moulin de Cal, before finishing back at the starting point. Don't miss the rich rural heritage of the hamlets you pass through, including the dry-stone hut known as "la capitelle" by the roadside (Villaret) and the old Bringuet paper mill near the bridge at Brousses.
All these hikes can be done from your Le Martinet rouge campsite . Follow the explanations for each of them.
Thanks to the Association "Environnement, Territoires et Paysages" de l'Aude for its superb work in identifying and describing these hikes around Carcassonne in the Aude department. follow this link: http: //associationetp11.e-monsite.com/