ARAGON in Cabardes
Your campsite near Aragon. Just 8 km from your campsite in the Aude, Aragon is a visit not to be missed.
From the top of its rocky outcrop, this small village overlooks the Trapel and Valette streams, harboring vestiges of its medieval past. In addition to its charming little streets, Aragon boasts a late 16th-century castle that once belonged to the Lords of Aragon, but because of their support for the Cathar cause, they were dispossessed of their domains by the King of France.
It has been transformed over the centuries and now boasts a number of fine features. Of the original medieval building, only one section of wall is still visible, but it blends in with the rest of the facades. It features a 16th-century door.
This elegant building is privately owned but beautifully restored, with beautiful mullioned windows, and is well worth a visit in the heart of the old village.
Aragon also owes its fame to the 14th-century painted woodwork in the church of Sainte Marie, recently discovered when the church was refurbished. What a surprise it was for the craftsmen when they removed the false cross-beams that had been installed in the 19th century, obscuring the roof structure: they discovered painted frescoes whose fresh colors had been exceptionally well preserved. These paintings, with their traditional medieval decorations: bestiaries, coats of arms and plant motifs, were uncovered.
The southern Gothic church of Sainte Marie is set among the houses of theold castrum, and still has a door dating back to the time of its construction (the bell tower door).
In the center of the village stands a 16th-century stone cross, decorated on both sides. On the same square, known as Place de l'abreuvoir, you can see a granite drinking trough with the charm of yesteryear.
Finally, the remains of two mills bear witness to Aragon's rural past.
The dry-stone area
It's an interpretive museum showcasing ancestral dry-stone building techniques, one of the region's living heritages. Guided by a film, visitors can follow the evolution of buildings (terraces, huts, walls, etc.) through the economy of the area.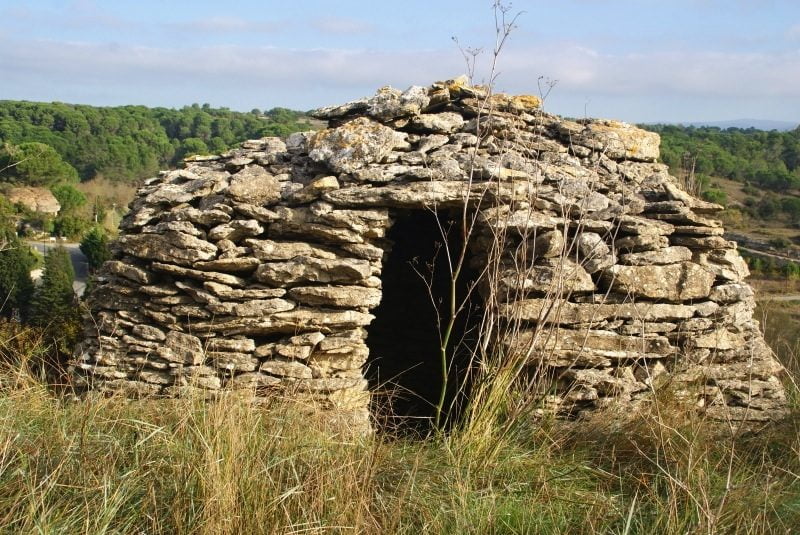 In this particular garden, you can admire discoidal stelae, funerary monuments dedicated to Christians, which probably originated in the ancient cemetery. Replicas have been installed in the garden (11). A medieval garden, modelled on those found near abbeys and castles, has also been laid out on rue du Paro. In these gardens, plants were grown for a variety of purposes: medicinal, dietary, utilitarian (from which dyes or fibers were extracted) and liturgical (used for rituals).
Aragon promises a pleasant visit, a journey back to medieval times, but also the discovery of "dry stone" landscapes, shaped by man over the centuries.
Book your camping pitch near Aragon – Book your vacation accommodation in Aude
camping near Aragon en Cabardes
Photo credits: image village Aragon
Meria z Geoian [CC BY-SA 4.0 (https://creativecommons.org/licenses/by-sa/4.0)]
/Image fresco painted wood and dry stone