Occitanie's biggest festival.
ALL PROGRAMMING IN REAL TIME HERE
The Carcassonne festival is now ranked among the top 10 festivals in France. With 200,000 visitors a year from the 4 corners of France and abroad. A festival in the Aude department, during the month of July, set in the medieval city of Carcassonne with its ancient theater, a city which, let's not forget, is a UNESCO World Heritage Site! Every evening, over 3,000 people attend the show.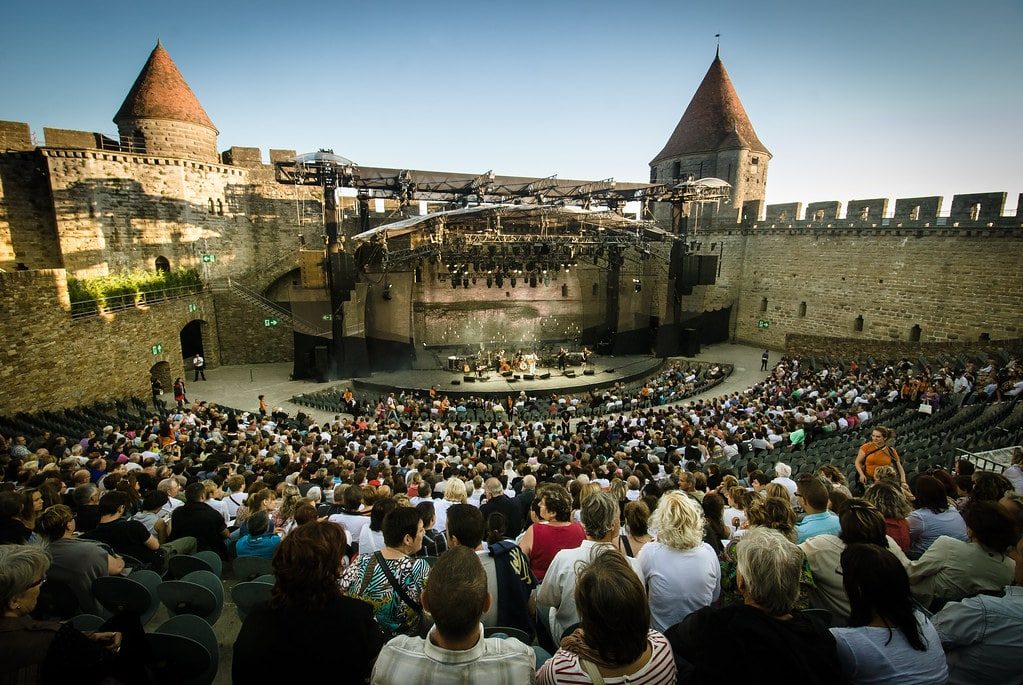 The Carcassonne festival program continues to evolve, with ambitious choices that have made a name for themselves beyond France's borders.
Today, the Carcassonne Festival is a not-to-be-missed cultural event. If you're spending your vacation in Carcassonne, be sure to check out the program below for an artistic experience you won't soon forget.When you stay at Le Martinet Rouge campsite in July, don't miss this unique event in France.
The Carcassonne Festival features 120 shows, 80 of which are free because they are the OFF of the festival!
The Carcassonne Festival features contemporary music, classical and folk music, dance and opera. The program features concerts by artists from all horizons: from emerging artists with genius talent to international stars.
In this incredible festival in theAude region, there's something for everyone among this cultural and artistic diversity.
COMPLETE PROGRAM AND RESERVATIONS HERE
How do I get to the Carcassonne Festival?
Carcassonne is at the crossroads of southern France in the Occitanie region (formerly Languedoc-Roussillon). 1h00 from Toulouse – 40 min from Narbonne – 1h30 from Montpellier – 1h00 from Perpignan
By plane
Airport Sud de France Carcassonne: connections to England, Ireland, Scotland, Belgium and Portugal. Information: 04 68 71 96 46 www.aeroport-carcassonne.com
Airport Toulouse Blagnac (1 hour from Carcassonne): Toulouse airport Blagnac serves most cities in France as well as numerous international destinations. Information on 0 825 380 000 (€0.15 incl. tax/min.) www.toulouse.aeroport.fr
Airport Montpellier (less than 2 hours from Carcassonne): Montpellier airport serves most of France's cities as well as numerous international destinations. Information on 0 825 830 003 (€0.12 incl. tax/min.) www.montpellier.aeroport.fr
By train
Carcassonne S.N.C.F station. Line information direct: 36 35 (€0.34 incl. tax/min.) (From From abroad: 00 33 892 35 35 35)
By car
A9/A61 freeway: exit 24 "Carcassonne Est".
Take the D6113 towards Carcassonne
Follow Cité Médiévale (to get to the Theatre) Jean-Deschamps or Château Comtal)
Carcassonne Festival: IN stages
Théâtre Jean-Deschamps (Cité Médiévale)
A large amphitheatre in the medieval city. This is where the greatest artists on the French and international music scene. international. Incredible technical resources for an emotional experience in a place steeped in the history of the Cathars. A unique moment to experience with the family.
Château Comtal (medieval town)
The Château Comtal is a medieval fortress in the heart of the Cité de Carcassonne. The venue is geared more towards theater and dance, thanks to its outstanding acoustics. For a month, this venue plays host to theatrical and dance performances in the Carcassonne Festival program.
The biggest names in French theater have performed at the Château Comtal as Francis Huster, to give the best to the public carcassonnais .
Carcassonne Festival: OFF stages
Chénier stage, Carnot stage, Marcou stage, Hotel de Roland stage, Château Comtal stage, Saint Vincent church.
Where to book and buy tickets
In Carcassonne
PAC BILLETTERIE – 10 rue de la République – Carcassonne
Open Monday to Thursday, 10 a.m. to 12:30 p.m. and 2 p.m. to 5:30 p.m., Friday from 10 a.m. to 12:30 p.m. and from 2 p.m. to 4:30 p.m.
Other booking points: France Billet network, Ticketmaster, Box Office, Digitick, Festicket and le Bikini
On show nights, we advise you to arrive 2h00 before the show. the start of the show for the Théâtre Jean-Deschamps and 1h00 before for the Château Comtal
All over France and abroad
On the web: PAC Billetterie
By telephone: (+33) 04 68 115 915 (ticketing service from Festival / payment by credit card)
ALL THE PROGRAMMATION AND BOOKING HERE
Book your rental near Carcassonne now
Book your pitch at a superb campsite in the Aude department
Festivals de l'Aude, the Carcassonne festival
photo credit:Jean-Baptiste Bellet | Flickr