Occitanie's biggest festival.
ALL PROGRAMMING IN REAL TIME HERE
The Carcassonne festival is now ranked among the top 10 festivals in France. With 200,000 visitors a year from the 4 corners of France and abroad. A festival in the Aude department, during the month of July, set in the medieval city of Carcassonne with its ancient theater, a city which, let's not forget, is a UNESCO World Heritage Site! Every evening, over 3,000 people attend the show.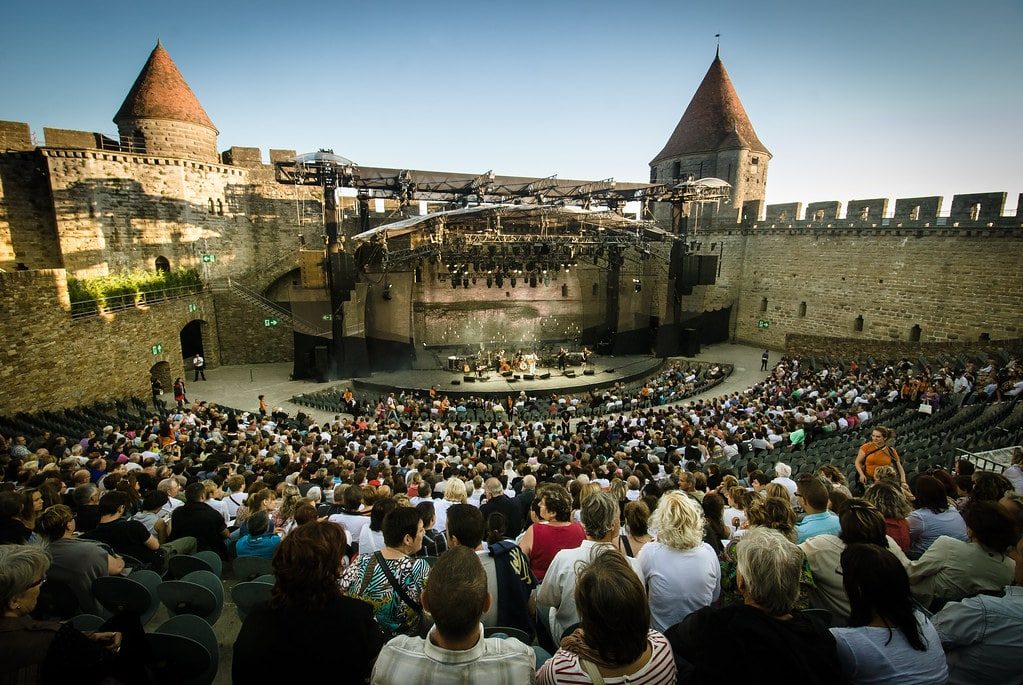 The Carcassonne festival program continues to evolve, with ambitious choices that have made a name for themselves beyond France's borders.
Today, the Carcassonne Festival is a not-to-be-missed cultural event. If you're spending your vacation in Carcassonne, be sure to check out the program below for an artistic experience you won't soon forget.When you stay at Le Martinet Rouge campsite in July, don't miss this unique event in France.
The Carcassonne Festival features 120 shows, 80 of which are free because they are the OFF of the festival!
The Carcassonne Festival features contemporary music, classical and folk music, dance and opera. The program features concerts by artists from all horizons: from emerging artists with genius talent to international stars.
In this incredible festival in theAude region, there's something for everyone among this cultural and artistic diversity.
COMPLETE PROGRAM AND RESERVATIONS HERE
How do I get to the Carcassonne Festival?
Carcassonne is at the crossroads of southern France in the Occitanie region (formerly Languedoc-Roussillon). 1h00 from Toulouse – 40 min from Narbonne – 1h30 from Montpellier – 1h00 from Perpignan
By plane
Airport Sud de France Carcassonne: connections to England, Ireland, Scotland, Belgium and Portugal. Information: 04 68 71 96 46 www.aeroport-carcassonne.com
Airport Toulouse Blagnac (1 hour from Carcassonne): Toulouse airport Blagnac serves most cities in France as well as numerous international destinations. Information on 0 825 380 000 (€0.15 incl. tax/min.) www.toulouse.aeroport.fr
Airport Montpellier (less than 2 hours from Carcassonne): Montpellier airport serves most of France's cities as well as numerous international destinations. Information on 0 825 830 003 (€0.12 incl. tax/min.) www.montpellier.aeroport.fr
By train
Carcassonne S.N.C.F station. Line information direct: 36 35 (€0.34 incl. tax/min.) (From From abroad: 00 33 892 35 35 35)
By car
A9/A61 freeway: exit 24 "Carcassonne Est".
Take the D6113 towards Carcassonne
Follow Cité Médiévale (to get to the Theatre) Jean-Deschamps or Château Comtal)
Carcassonne Festival: IN stages
Théâtre Jean-Deschamps (Cité Médiévale)
A large amphitheatre in the medieval city. This is where the greatest artists on the French and international music scene. international. Incredible technical resources for an emotional experience in a place steeped in the history of the Cathars. A unique moment to experience with the family.
Château Comtal (medieval town)
The Château Comtal is a medieval fortress in the heart of the Cité de Carcassonne. The venue is geared more towards theater and dance, thanks to its outstanding acoustics. For a month, this venue plays host to theatrical and dance performances in the Carcassonne Festival program.
The biggest names in French theater have performed at the Château Comtal as Francis Huster, to give the best to the public carcassonnais .
Carcassonne Festival: OFF stages
Chénier stage, Carnot stage, Marcou stage, Hotel de Roland stage, Château Comtal stage, Saint Vincent church.
Where to book and buy tickets
In Carcassonne
PAC BILLETTERIE – 10 rue de la République – Carcassonne
Open Monday to Thursday, 10 a.m. to 12:30 p.m. and 2 p.m. to 5:30 p.m., Friday from 10 a.m. to 12:30 p.m. and from 2 p.m. to 4:30 p.m.
Other booking points: France Billet network, Ticketmaster, Box Office, Digitick, Festicket and le Bikini
On show nights, we advise you to arrive 2h00 before the show. the start of the show for the Théâtre Jean-Deschamps and 1h00 before for the Château Comtal
All over France and abroad
On the web: PAC Billetterie
By telephone: (+33) 04 68 115 915 (ticketing service from Festival / payment by credit card)
ALL THE PROGRAMMATION AND BOOKING HERE
Book your rental near Carcassonne now
Book your pitch at a superb campsite in the Aude department
Festivals de l'Aude, the Carcassonne festival
photo credit:Jean-Baptiste Bellet | Flickr
Top 10 things to do around Carcassonne
1. The medieval city of Carcassonne, 18km from the campsite
It's impossible to stay in the Aude without visiting Carcassonne, a medieval village listed as a UNESCO World Heritage Site. The Cité boasts 52 towers and two concentric enclosures totalling 3km of ramparts! A large part of the Cité is open to the public day and night.
2. Le Moulin à Papier de Brousses 2km from the campsite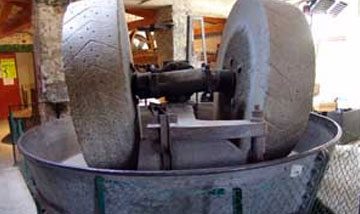 In the middle of a forest, surrounded by large granite boulders, discover the magic of paper at the last Paper Mill in Languedoc. With fun tours, workshops and courses for children, this is a wonderful place for the whole family. Climbing the rocks or crossing the new footbridge below the river, several hikes start from the Moulin and offer unique views of the Pyrenees.
3. Montolieu, le village du livre et des arts – Musée Cérès Franco 7 km from the campsite
Stroll through the narrow streets of this charming village and immerse yourself in the world of books and the arts. Throughout the year, numerous artists exhibit their paintings, sculptures, photographs and crafts. The former Cave coopérative, now a museum, houses the rich and astonishing Cérès Franco collection.
4. The 4 castles of Lastours, 20km from the campsite
Visit this exceptional archaeological site, which features 4 castles at an altitude of 300m overlooking the village of Lastours. It's a beautiful hike (about 3 hours' walk) with magnificent panoramic views!
5. Les Grottes de Limousis 24 km from the campsite
Every year, the Grotte de Limousis welcomes some 27,000 visitors.
Although the cave has been occupied by prehistoric man and cave bears (scratches on the walls), it's the numerous concretions that are best appreciated during the 45-minute guided tour. Over a kilometer-long course, 5 rooms (Columns, Ball, Lac Vert, Disks, Grand Lac) and 2 lakes are waiting to be discovered. And the best is yet to come, with the 4-metre-high, 10-metre-circumference Aragonite Chandelier, the cave's treasure.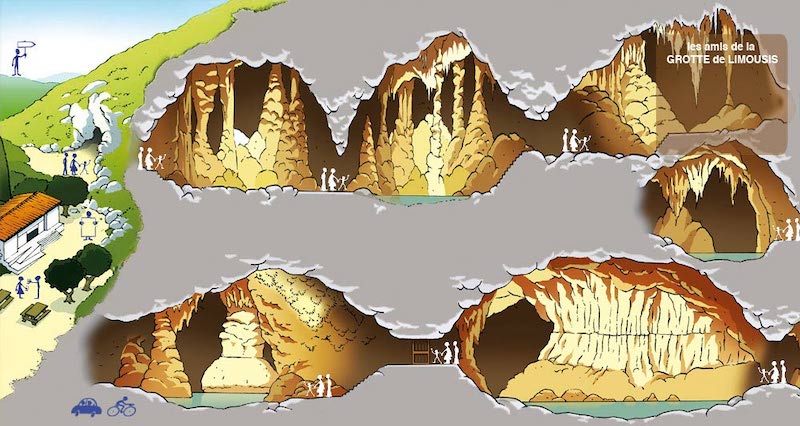 6. Le Gouffre Géant de Cabrespine, 30 km from the campsite.
Its dimensions are so exceptional that it is even referred to as a giant chasm. At 400 metres deep, it's the largest converted chamber in the underground world! It could contain the Eiffel Tower. The chasm was only discovered in 1968, and opened to the public in 1988. During the 45-minute guided tour, you'll appreciate not only the gigantic size of the cavity, but also its superb aragonite and calcite crystals . Walk on a glass balcony with 200 metres of space beneath your feet, and you'll feel the chills!
7. Château de Saissac, 10 km from the campsite
This Cathar castle is one of the least known, and yet it's the oldest and one of the largest, with a fortification dating back over 900 years!
At the entrance to this small, picturesque village, take in the breathtaking panorama of the Carcassonne plain, the Lauragais region and the Pyrenees mountain range!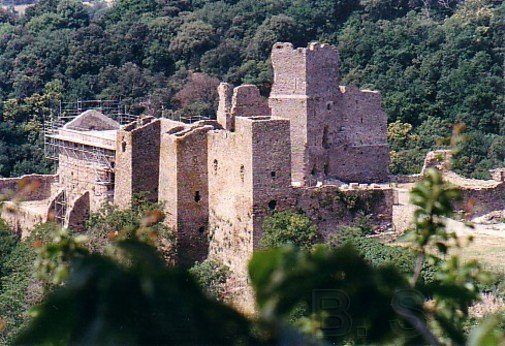 8. The Mazamet footbridge, 30 km from the campsite
Take a dizzying ride 70 m above the ground on the footbridge, which leads to 2 signposted trails to discover our historical and natural heritage. The Mazamet footbridge promises thrills and spills and is a unique experience in the Occitanie region. Combine with a visit to the Maison du Bois et du Jouet.
9. Villelongue Abbey, near Montolieu, 12 km from the campsite.
Villelongue Abbey, near Montolieu, 12 km from the campsite. To be combined with the discovery of Montolieu, village of books and arts, and a visit to the Cérès Franco museum.

10. Canal du Midi
Whether you opt for a bike ride along the canal or a barge cruise through the locks, or rent a boat for a family trip to Carcassonne, the Canal du Midi will enchant you with its calm and serenity. You can also choose to visit the origins of the Canal du Midi by discovering the Rigole at La prise d'Alzeau, in the heart of the Montagne Noire.
Top 10 tourist attractions around Carcassonne in the Aude department
Book your mobile home rental near Carcassonne now
Premium Freecamp pitches in Aude
Pitches with all comforts: private kitchen and sanitary facilities!
Your campsite offers a new range of pitches. Premium pitches for tents, caravans or motorhomes with private sanitary facilities and kitchenette, just for you!
For even greater comfort, enjoy your own private sanitary facilities.
The sanitary area includes 1WC, 1 washbasin and 1 walk-in shower, and the kitchenette is equipped with a sink, fridge and gas stove (crockery not provided). A deposit of 150Euro is required, by cheque or cash only.
Dogs are welcome on pitches (maximum 2 dogs per pitch).

Stay at your campsite near Carcassonne and enjoy maximum comfort, just like at home, now that's possible!
Promo ACSI Premium Freecamp pitch: ACSI package (17 eur) + 10 eur (2 nights minimum)
The advantages of comfortable Premium pitches
Campsites with private sanitary facilities and private kitchens are an increasingly popular option for camping vacations. They offer a certain level of comfort and privacy that is hard to find in traditional campsites. Here are some of the advantages of these locations:
More privacy: When you have your own bathroom and kitchen, you don't have to share these spaces with other people. This can be particularly appreciated by people who prefer a little more privacy during their vacations.
More comfort: The private bathroom and kitchen offer you all the comfort you need during your stay. You don't have to worry about queuing to use the toilet or having to share the kitchen with other people.
More space: Campsites with private sanitary facilities and private kitchens often have more space than traditional campsites, which can be appreciated if there are a lot of you.
For just a few extra euros a day, take advantage of the region's unique benefits to spend a superb vacation with family or friends near Carcassonne in the Aude department.
If you'd prefer to opt for a standard location, see our rates on the locations page.
If you would like to book accommodation at your Le Martinet Rouge campsite, click here.
THE BLACK MOUNTAIN SUMMER CULTURAL AGENDA

This summer, the Aude department offers a wide range of outings, unusual places, concerts and free shows. Take advantage of this opportunity to book your rental or pitch at the campsite.

Download the summer program at the bottom of this article!
CARCASSONNE
ALL JULY : Carcassonne OFF Festival
In addition to the official festival, featuring a host of well-known artists, Carcassonne offers an OFF festival with six stages hosting over sixty free shows. An eclectic program of local, national and international artists awaits you. Come and see the artists of the moment in concert.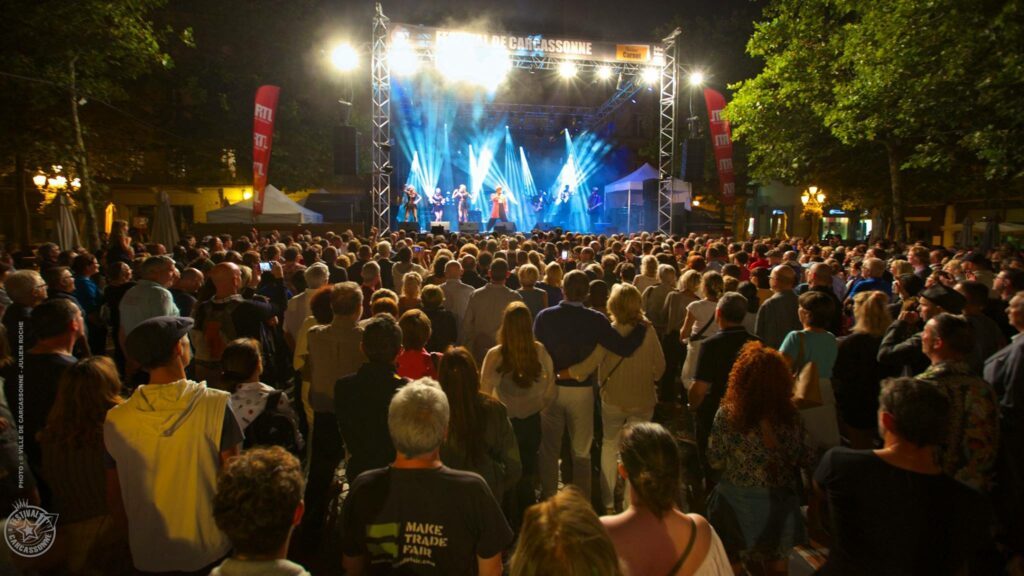 FAMILY CULTURAL OUTINGS Around the Montagne Noire
Brousses and Villarets
August 20 -21: Brousses medieval festival
The association "Les Chevaliers de la Montagne Noire" welcomes you to their medieval camp in the middle of a field.
Stroll through the market, take part in cultural activities, entertainment, troubadour shows and knight fights.
Brousses and Villaret
06 95 23 23 70
leschevaliersdelamontagnenoire@gmail.com
Fontiers-Gabadès
Le Chat Barré, a place of conviviality and entertainment.
A sort of guinguette in full song, Le Chat Barré is an artistic venue where musicians, singers, music groups and comedy troupes perform all summer long. The shows come in all shapes and styles, sometimes even a little crazy. A must-do outing during your stay, for a convivial, fun and festive experience.
On-site tasting of drinks and local produce.
8 bis allée André le Nôtre
Fontiers-Cabardès
06 75 12 94 19
lechatbarre@gmail.com
lechatbarre-spectacles.com
Château de Lastours
Events July and August
Experience Château de Lastours in a playful way. The Cathar castle organizes events such as falconry shows and storytelling tours.
Consult the program on their website
Belvedere and 4 castles site Lastours
04 68 77 56 02
chateaux.lastours@orange.fr
chateauxdelastours.fr
Chateau de Saissac
July 13: FIREWORKS
August 6-7: Saissac medieval festival
The "Au coeur des légendes" association welcomes you to a reconstruction of life at the castle in the Middle Ages.
There's entertainment for all the family.
SAISSAC 04 68 24 46 01
chateausaissac@orange.fr
saissac.fr
Roquefere castle
Jazz sous les Chataigniers Festival in August
For jazz fans, it's the ideal place to admire the best artists of the moment.
The setting is sublime, and you can sample local produce with a glass of Cabardès.
Château Roquefère Park
06 52 08 78 57
jazz-roquefere@sfr.fr
jazz-roquefere.com
DOWNLOAD THE SUMMER PROGRAM – MONTAGNE NOIRE
To make the most of your vacation, make the most of your stay at the campsite and take advantage of the summer entertainment on offer around Carcassonne and Castelnaudary.
Book unusual accommodation near Carcassonne!
For your next vacation in the Aude, opt for unusual accommodation.
Fully equipped tent cabins
For those who prefer a unique experience close to nature, we couldn't ignore the campsite's "wilder" area! New "tent-cabins", called bivouacs, will be set up high up between rocks and trees. You'll sleep high up, and enjoy an outdoor dining and kitchen area on the ground! One model sleeps 2, the other up to 3 people.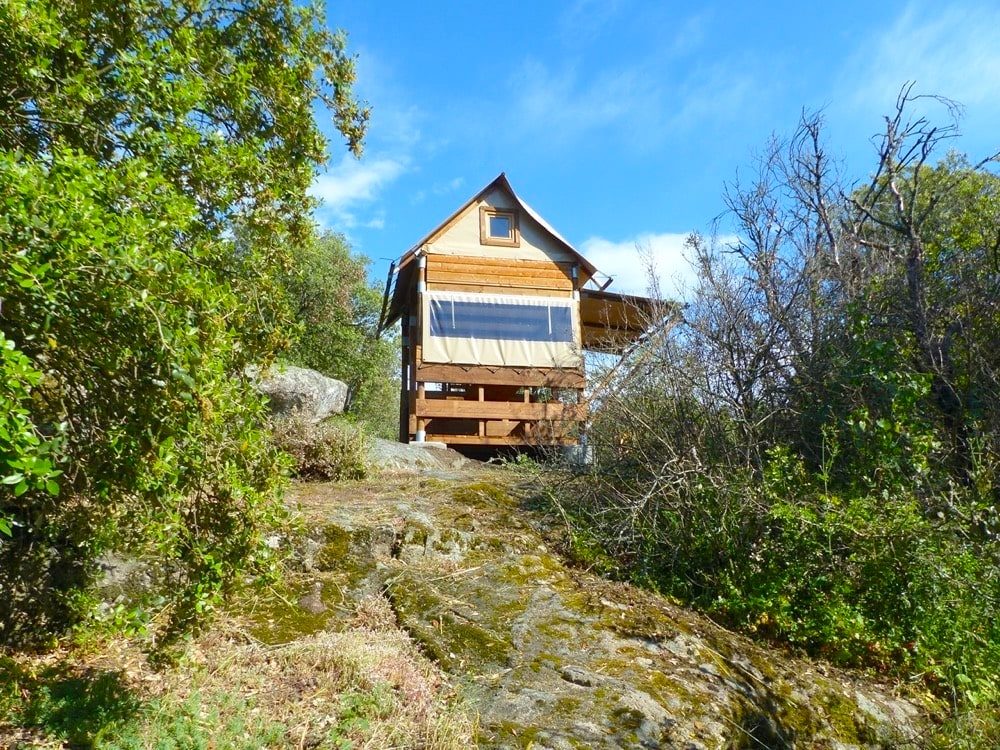 You'll be seduced by its natural and unusual surroundings!
Book your accommodation near Carcassonne now
Book your 3-star campsite in Aude.
Camping Insolite Carcassonne
Le Martinet Rouge campsite is ideally located for hiking in the surrounding woods and garrigue in the Aude department. They are accessible to all, with varying degrees of difficulty depending on the distance, but all allow you to enjoy the wonderful landscapes of the region around Carcassonne.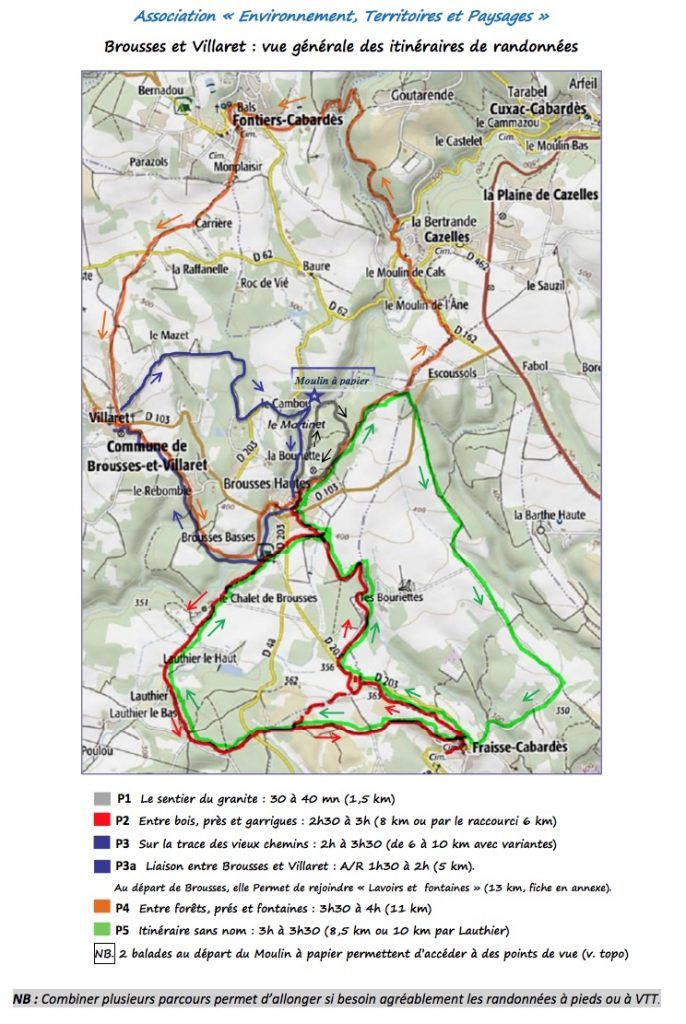 Click on the image to download the map
Hiking trails near Carcassonne in Aude around the campsite
The Granite Trail
30 to 40 minutes (1.5 km)
In and around Brousses, the traces of the nearby Montagne Noire are extended by the outcrop of rocks visible in many places
This trail takes you past the remains of the old stone quarries, which have remained untouched since they were mined. You can see cut stones and the beginnings of cracks, which in those days were widened by wooden wedges that, when wet and depending on the temperature, caused the stone to split.
Hiking through woods, meadows and garrigues
8 km (2h30 to 3h).
This walk takes you through trees and groves of various species, and offers magnificent views of the Carcassonne valley, the Pyrenees and the Montagne Noire. It's worth noting that this hike takes you past a hundred-year-old Lebanese cedar. Last but not least, birdwatchers will be able to catch a glimpse of raptors on their walk.
Hiking on the trail of ancient paths
6 to 10 km (2h to 3h30)
This circuit is a loop linking the two villages of Brousses and Villaret, along old paths lined with old stone walls that the elders patiently built to criss-cross the countryside. The walk takes you through both villages, taking in the rural heritage (fountains, wash-houses, etc.) and the shade of tall, varied trees whose roots dip in search of water in small streams. Finally, the trail leads down to the torrent de la Dure, with the paper mill, still in operation.
Hiking through forests, meadows and fountains
11 km (3h30 to 4h)
This hike takes in the whole of Fontiers-Cabardès to the north, where you can visit the church of Saint-Clément, then Villaret and Brousses to the south, and then up to the neighbouring Moulin de l'âne and Moulin de Cal, before finishing back at the starting point. Don't miss the rich rural heritage of the hamlets you pass through, including the dry-stone hut known as "la capitelle" by the roadside (Villaret) and the old Bringuet paper mill near the bridge at Brousses.
All these hikes can be done from your Le Martinet rouge campsite . Follow the explanations for each of them.
Thanks to the Association "Environnement, Territoires et Paysages" de l'Aude for its superb work in identifying and describing these hikes around Carcassonne in the Aude department. follow this link: http: //associationetp11.e-monsite.com/
Groups, families, take advantage of public holidays and extended weekends for your short stay at Camping Le Martinet Rouge near Carcassonne.
Weekends in 2021
Easter in April, Ascension Day and Pentecost in May are all good opportunities to get away for a few days in Carcassonne, Aude.
Less than 1 hour from Toulouse and the Mediterranean Sea, think of a short stay (2 to 4 nights) to get together with family or friends in Carcassonne in the Aude department! Share a real moment of happiness and conviviality at Camping Le Martinet Rouge. Take a weekend break in Carcassonne.
Biker groups, cycling clubs, soccer clubs, associations, hikers, … are all witnesses to the good humor and quality of the formulas offered to celebrate birthdays, reunions, cousinhoods, sporting events, to experience the time of a weekend in the Aude near Carcassonne.
Book your short break in Carcassonne with or without catering
Formulas available:
Hosting only
Accommodation +. breakfast
Accommodation +. half-board (breakfast + evening meal)
Accommodation +. packed lunches
Accommodation +. bread delivery
Just 20 minutes from the medieval city of Carcassonne, you'll find a dozen accommodations (mobile homes, chalets and gîtes, for 2 to 6 people) scattered around a 3-hectare park planted with trees and able to sleep around 50 people. The bar and restaurant are great places to meet up and enjoy a good meal together.
Contact your Le Martinet Rouge campsite to find out more about your wishes, needs and constraints.
Book your Aude cottage or camping pitch at Brousses et Villaret, 2 minutes from Carcassonne.
Phone 04 68 26 51 98
Read also: Carcassonne Festival in July
Carcassonne weekend in Aude
Cassoulet de Castelnaudary
Cassoulet is not just a recipe whose origins are disputed, it's also part of the heritage of the Cathar region of southwestern France.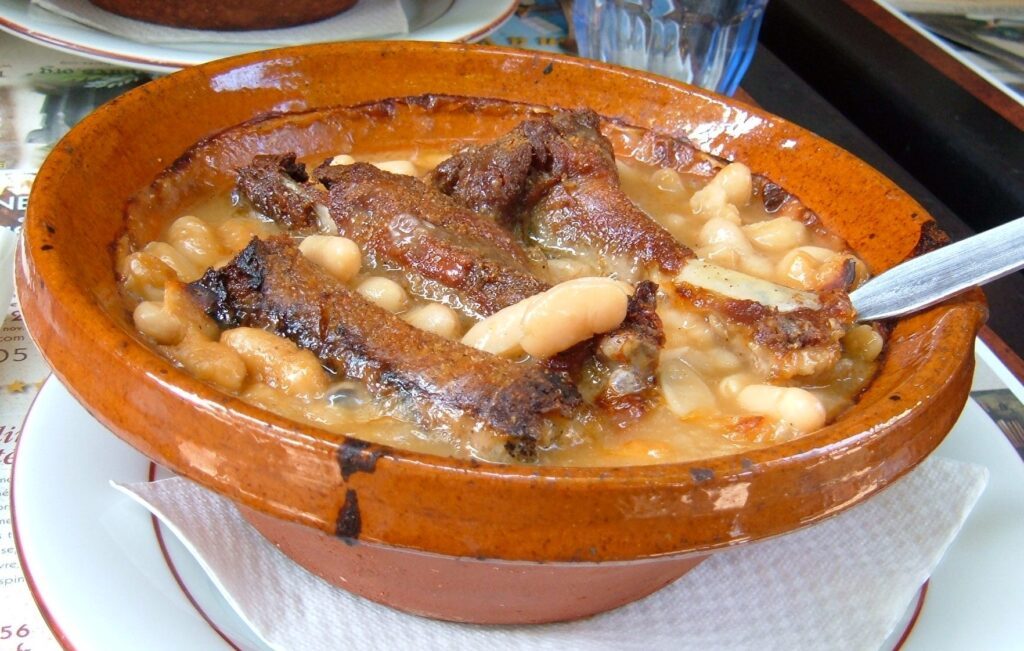 Photo credits: BrokenSphere [CC BY-SA 3.0 (https://creativecommons.org/licenses/by-sa/3.0)]
In response to the many questions you've asked us when visiting your campsite near Carcassonne and Castelnaudary, we've decided to devote an article to it, and above all, to give you the real recipe for Castelnaudary Cassoulet.
The origin of the Cassoulet recipe
Its origins date back tomedieval times, around the 14th century. The recipe's creator is said to be Guillaume Tirel, known as"Taillevent", cook to kings for over 60 years. The first mention of this dish appears in his cookery book "Le Viandier", which refers to a mutton and pork stew with broad beans. Some historians theorize that he was inspired by a recipe borrowed from the Arabs, which emphasized spices and herbs. Sheep stew with white beans is one of the recipes in the Baghdad Culinary Treatise. Taillevent would have taken this recipe and adapted it. Beans were later replaced by ingot beans, imported from South America by Christopher Columbus in 1530.
The story
Legend has it that the inhabitants of Castelnaudary, threatened by famine during the English siege of the town, pooled everything they had to feed the town's soldiers. Bacon, pork, beans, sausages and meat were all simmered in a large bowl.
The soldiers, full of energy, drove the English out of the Lauragais and to the English Channel!
Where does the name Cassoulet come from?
Cassoulet gave its name to the dish in the 18th century. Its name comes from the"cassole", a terracotta vessel glazed on the inside to make it non-porous, produced in the village of Issel, north of Castelnaudary. The mythical local dish simply took its name from the vessel in which it was cooked.
Cassoulet recipe for 4 people
"Ingredients
350-400 g lingot beans (preferably from the Lauragais region)
2 duck or goose confit legs, halved.
4 – 80g pieces of pure pork "Toulouse" sausage.
4 – 50g pieces of pork from the shank, shoulder or belly
250 g pork rind, half of which will be used after cooking to assemble the cassoulet.
A little salted bacon
1 poultry carcass or a few pork bones onions and carrots
The Recipe
The day before: Soak the dried beans overnight in cold water.
The next day:

Pour off the water, place the beans in a saucepan with three liters of cold water and boil for 5 minutes. Turn off the heat, drain the water and set the beans aside.
Prepare the stock with another 3 liters of water (non calcareous and from Castelnaudary if possible), the rind cut into wide strips, a poultry carcass if available or a few pork bones and, to taste, a few onions and carrots. Season generously with salt and pepper. Cook for an hour, then strain the stock and remove the rind.
Place the beans in the filtered stock and cook until they are soft but still whole. This takes about an hour of boiling.
While beans are cooking, Meat preparation :

Degrease the pieces of confit in a large frying pan over low heat, then set aside.
Brown the Toulouse sausages in the remaining fat, then set aside.
Brown the pork pieces until golden brown and set aside with the other meats.
Drain the beans and keep the stock warm. Add to the beans a few cloves of garlic and double the weight of salted bacon, crushed together.
Cassoulet assembly:
To do this, use the hollow terracotta dish known as "cassolo" (now called "la cassole") which gave its name to cassoulet, or alternatively a fairly hollow ovenproof terracotta dish.
Line the bottom of the cassole with pieces of rind
add about a third of the beans
arrange the meats and pour the rest of the beans on top
Arrange the sausages by pressing them into the beans, leaving the top of the sausages visible.
Complete the cassole by pouring in the hot broth, which should just cover the beans.
Grind pepper on the surface and add a tablespoon of the duck fat used to brown the meats.
Cooking :
Place in the oven at 150°/160° (Thermostat 5 or 6) and bake for two to three hours.
During baking, a golden-brown crust will form on the top of the cassole, which needs to be pressed down several times (the ancients used to say 7 times).
When the top of the beans begins to dry, add a few spoonfuls of stock.
If you prepare this cassoulet the day before, it should be reheated in the oven at 150° for an hour and a half before serving. Don't forget to add a little broth or, failing that, a few spoonfuls of water."
source:recipe and historical sources taken from the website of the Grande Confrérie du Cassoulet de Castelnaudary, a comprehensive site on the history of cassoulet.
The wine that goes with Cassoulet
Choose AOC Malepère, wines from the Malepère massif. Produced on the outskirts of Carcassonne, its fruity bouquet is a perfect match for this flavorful dish.
Did you know that there is a Cassoulet road? Discover it here
Enjoy the tasting and see you soon at your campsite near Carcassonne.
tags: cassoulet recipe, camping near carcassonne, camping aude, castelnaudary
The SAFARI LODGE can be rented by the night even in high season.
SAFARI LODGE rental in Carcassonne at the Martinet Rouge campsite
If you like camping and its conviviality without the bulky equipment of the camper, let yourself be seduced by our NEW LODGE SAFARI in the Aude!
Glamping near Carcassonne means getting back to nature, enjoying peace and quiet and a change of scenery, while benefiting from appreciable comfort:
real beds (1 room with a 160cm double bed and 1 room with bunk beds or 2 single beds – possibility of adding an extra bed or crib)
a salon
a kitchenette with gas and adapted crockery
a covered terrace
Our lodge, set on a magnificent plot of land surrounded by holm oaks and granite rocks, offers 2 bedrooms for 1 to 5 people in a 25m2 space + a 12m2 covered terrace. The campsite's infrastructure, water points and sanitary facilities are at your disposal to make the most of your stay.
The Lodge Safari offers all the advantages of camping without the clutter, in guaranteed comfort!
Book your lodge on the rental page: click here
Rent your bungalow lodge in Aude
Motor sports events in Aude
Endu'rando moto on April 8 and 9, 2017
This year the 10th edition of the Endu'Rando du Cabardès in Aude will take place on April 8 and 9, 2017. Camping Le Martinet Rouge***, located 5km from Cuxac Cabardès and Fontiers Cabardès, offers accommodation ( Mobiles Homes, Bungalows, chalets) to attend the motorcycle enduro race.
The event begins on Saturday, April 8 at 10:00 am and ends on Sunday, April 9 at 6:00 pm.
Events: a 45 km loop run twice and 4 special stages (not timed)
An event for motor sports enthusiasts to enjoy with family and friends
Rallye de la Montagne Noire on July 21, 22, 23
Just 2 steps from the campsite, come and admire the superb cars and discover a 2nd division rally, now renowned for its technical difficulty and prized by experienced drivers.
This year's Montagne Noire rally will take place from July 21 to 23, 2017.
Here's a short video of the rally to whet your appetite …

Drivers or spectators, book your accommodation now to take part in this sporting event in the Aude.
Little bonus

more videos on:
http://www.rallygo.com/videos-rallye-montagne-noire-2016/
rallye Aude, rallye montagne Noire