THE BLACK MOUNTAIN SUMMER CULTURAL AGENDA

This summer, the Aude department offers a wide range of outings, unusual places, concerts and free shows. Take advantage of this opportunity to book your rental or pitch at the campsite.

Download the summer program at the bottom of this article!
CARCASSONNE
ALL JULY : Carcassonne OFF Festival
In addition to the official festival, featuring a host of well-known artists, Carcassonne offers an OFF festival with six stages hosting over sixty free shows. An eclectic program of local, national and international artists awaits you. Come and see the artists of the moment in concert.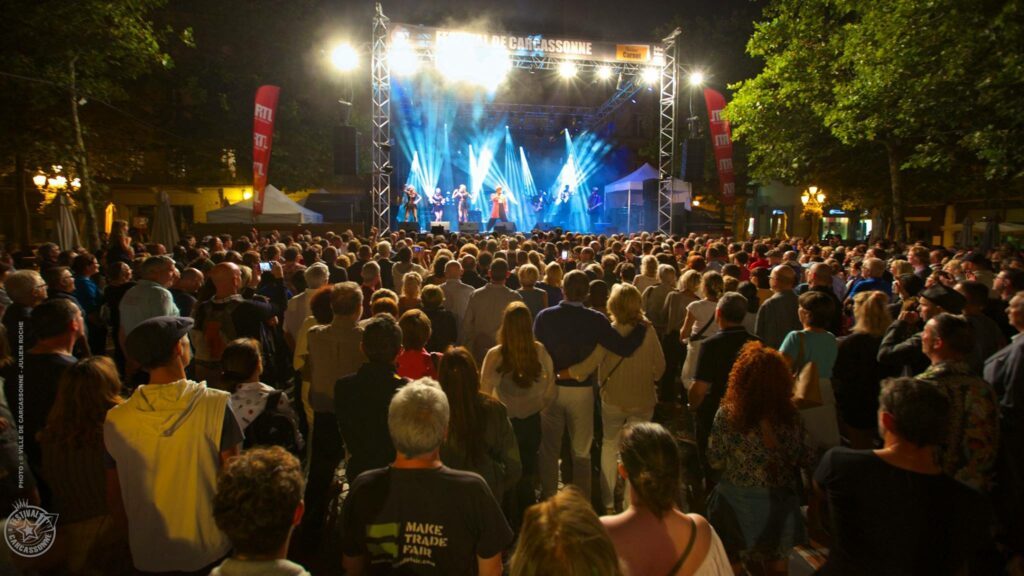 FAMILY CULTURAL OUTINGS Around the Montagne Noire
Brousses and Villarets
August 20 -21: Brousses medieval festival
The association "Les Chevaliers de la Montagne Noire" welcomes you to their medieval camp in the middle of a field.
Stroll through the market, take part in cultural activities, entertainment, troubadour shows and knight fights.
Brousses and Villaret
06 95 23 23 70
leschevaliersdelamontagnenoire@gmail.com
Fontiers-Gabadès
Le Chat Barré, a place of conviviality and entertainment.
A sort of guinguette in full song, Le Chat Barré is an artistic venue where musicians, singers, music groups and comedy troupes perform all summer long. The shows come in all shapes and styles, sometimes even a little crazy. A must-do outing during your stay, for a convivial, fun and festive experience.
On-site tasting of drinks and local produce.
8 bis allée André le Nôtre
Fontiers-Cabardès
06 75 12 94 19
lechatbarre@gmail.com
lechatbarre-spectacles.com
Château de Lastours
Events July and August
Experience Château de Lastours in a playful way. The Cathar castle organizes events such as falconry shows and storytelling tours.
Consult the program on their website
Belvedere and 4 castles site Lastours
04 68 77 56 02
chateaux.lastours@orange.fr
chateauxdelastours.fr
Chateau de Saissac
July 13: FIREWORKS
August 6-7: Saissac medieval festival
The "Au coeur des légendes" association welcomes you to a reconstruction of life at the castle in the Middle Ages.
There's entertainment for all the family.
SAISSAC 04 68 24 46 01
chateausaissac@orange.fr
saissac.fr
Roquefere castle
Jazz sous les Chataigniers Festival in August
For jazz fans, it's the ideal place to admire the best artists of the moment.
The setting is sublime, and you can sample local produce with a glass of Cabardès.
Château Roquefère Park
06 52 08 78 57
jazz-roquefere@sfr.fr
jazz-roquefere.com
DOWNLOAD THE SUMMER PROGRAM – MONTAGNE NOIRE
To make the most of your vacation, make the most of your stay at the campsite and take advantage of the summer entertainment on offer around Carcassonne and Castelnaudary.