In June, at Pentecost, go hiking in the Black Mountains
The Montagne Noire in the Aude region as you've never seen it before!
pentecost weekend
Take part in FESTIRANDO on June 4,5,6
and enjoy our FREE guided hikes,
departing from 5 Montagne Noire villages
(2 to 4 departures per day, tour details on flyer).
Incredible walks for all levels, breathtaking landscapes, sites rarely visited by tourists! Discover the Montagne Noire, guided by people who are passionate about their region.
You'll be able to enjoy on-site catering, thanks to the participation of our local partners (reservations only, BEFORE JUNE).
For more information, click here:
http://www.tourisme-montagnenoire.com/
---
Les Martys, Saint-Denis, Fournes-Cabardès, Les Cammazes, Les Ilhes-Cabardès… Let us guide you through these surprising villages!
Breathtaking scenery and untamed nature, hikes you won't soon forget…
Book your weekend in the Montagne Noire now!
Book your mobile home or pitch at Le Martinet Rouge and take part in the FESTIRANDO!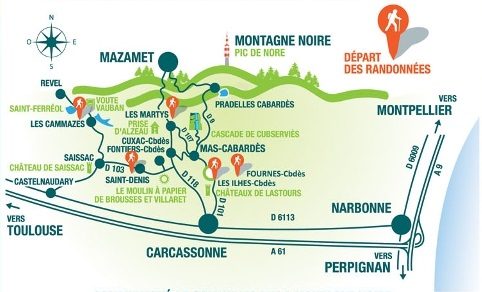 Copyright © 2016 – OFFICE INTERCOMMUNAL DE TOURISME DE LA MONTAGNE NOIRE, All rights reserved.
Photo credits ©Valérie Lafon – Pays Carcassonnais ©Christophe Bouthé – Vent d'Autan
OFFICE INTERCOMMUNAL DE TOURISME DE LA MONTAGNE NOIRE
Route de Mas-Cabardès
11380 LES ILHES-CABARDES
FRANCE
04 68 76 64 90
contact@tourisme-montagnenoire.com
www.tourisme-montagnenoire.com
camping Montagne Noire, hiking Montagne Noire